Few drinks are more decadent and delicious than a warm, comforting cup of hot cocoa. One of the largest perks of owning a Keurig Coffee Brewer is the wide variety of drinks options available to you, including hot chocolate! There are many hot cocoa K-Cup options to choose from and determining which will provide you with that creamy, perfect chocolate brew can be tedious. Fortunately, Cozy has taken the guesswork out of which k-cups are worthy of your mug. Read on to view our top picks for best hot cocoa K Cups.
Best Hot Cocoa K Cups at a Glance
1. Swiss Miss Hot Cocoa Keurig K-Cup Pods (Top Pick)
2. Starbucks Hot Cocoa K-Cup Pods (Most Splurge Worthy)
3. Swiss Miss Reduced Calorie K-Cup Pods (Best Healthy Option)
4. Brooklyn Beans Peanut Butter Chocolate Hot Cocoa
5. Crazy Cups Premium Hot Chocolate K-Cup Sampler
You cannot go wrong with any of the options in Cozy's Top Five List, luckily hot chocolate K-cup options don't stop there. See below for Cozy's reviews as well as a list of additional hot cocoa K-cup options we think you should try.
Best Hot Cocoa K-Cups For Keurig
For more than 50 years, Swiss Miss Hot Chocolate has been perfected into a flavor that is reminiscent of many childhoods. Swiss Miss has successfully taken their classic flavor and recreated it in their Milk Chocolate Hot Cocoa K-Cup Pods. These K-Cups earn the honor of Cozy's top pick due to their smooth texture and delightful chocolate flavor that is light and not overpowering. An added bonus is that Swiss Miss K-cups are made with real milk and cocoa powder! With a moderate price point, Swiss Miss K Cups provide you with a delicious steaming cup of hot chocolate that won't disappoint or empty the pocketbook.
Enjoying Starbucks Cocoa without having to leave the house is a dream come true! Starbucks Hot Cocoa K-Cups are rich as well as indulgent and are also made with ethically sourced, high quality cocoa that will make your taste buds sing with delight. The only negative, worthy of consideration is the steeper price tag these K-Cups come with. Despite their higher price point these K-cups are a splurge that is 100% worth it!
Craving the classic Swiss Miss Hot Chocolate flavor while still being kind to the waist line? If you answered yes, then the Swiss Miss Reduced Calorie Hot Cocoa K-Cup Pods are the perfect choice for you! These K-Cups boast fewer calories and less sugar without compromising the delicious, milk chocolate goodness Swiss Miss is known for. When looking for lighter options without compromising taste this K-Cup is it!
Is there seriously any combination as amazing as peanut butter and chocolate? You can now enjoy this heavenly chocolate-peanut-buttery deliciousness in a cup with Brooklyn Beans Peanut Butter Chocolate Hot Cocoa K-Cups. This brew tastes like a Reese's Peanut Butter Cup in your mug! This is why this K-Cup wins Cozy's top pick for best candy in your cup. Give it a try, your taste buds will thank you!
If you are craving variety then the Crazy Cups Premium Hot Chocolate K-Cup Sampler pack is the perfect option for you! Crazy Cups Hot Chocolate K-Cups contain 15g of cocoa enhanced with additional flavoring. This creates an adventurous and enjoyable experience in your mug. Cozy selected this sampler as the best variety pack option. This is due to the large amount of decadent hot chocolate flavor options. Molten Chocolate Souffle, Peanut Butter in a Cup, Dulce de Leche, Salted Caramel and Red Velvet are packaged together. These K-Cups are one adventure you will never regret!
If Cozy was as rich as this hot cocoa we would be Billionaires! True chocolate lovers know that dark chocolate is the ultimate indulgence. Cafe Escapes Dark Chocolate Hot Cocoa K-Cups have a rich, sophisticated flavor that does not disappoint. If you are craving a richer take on classic hot chocolate these K-Cups are for you.
This K-Cup provides a classic creamy hot cocoa taste at a very economical price point. Grove Square Hot Cocoa Milk Chocolate K-Cups are perfect for a warm chocolate treat any time day or night. At their affordable price point you can easily indulge more than once a day with no guilt.
If you are looking for an affordable variety, then look no more! The Two Rivers Hot Chocolate K-Cup Sampler Pack provides you with the opportunity to try out new flavors such as tootsie roll or peanut butter cookie hot cocoa without the expensive commitment. Containing one of the largest hot cocoa varieties among all K-Cup variety packs makes this option a fun and versatile choice.
Never have we heard of a better combination than caffeine and hot chocolate! The Crazy Cups Molten Chocolate Souffle Caffeinated Hot Chocolate K-Cups provides you with the opportunity to indulge in chocolaty goodness without having to compromise your caffeine fix. This rich hot chocolate is accompanied by a kick of 100mg of caffeine per cup. This will surely satisfy your sweet tooth and keep you going!
For a fun and unique hot chocolate option try the Tootsie Roll Junior Mints Chocolate Hot Cocoa K-Cups. These K-Cups, based off of the iconic chocolate brand, provide the rich taste of chocolate combined with the fresh flavor of peppermint. Each cup is the perfect serving of velvety hot chocolate with a candy flavored twist, your sweet tooth will thank you!
You will understand why America Runs on Dunkin' after cozying up to the satisfying taste of Dunkin Donuts Milk Chocolate Hot Cocoa K-Cups. With a classic, chocolatey taste at an affordable price these K-Cups are a delicious way to indulge your daily sweet tooth with less calories than a doughnut.
This south-of-the border spicy yet sweet Mexican chocolate flavored hot cocoa packs a gourmet punch. With hints of cinnamon and chilies the Brooklyn Beans Mexican Chocolate Hot Cocoa K-Cups create an intense, unforgettable flavor that will keep you coming back for more. 
We can't think of a more indulgent treat than chocolatey caramel in a cup. With Nestle Rolo Hot Chocolate K-Cups you can enjoy both at the push of a button! This hot chocolate does not disappoint – it is like a warm, comforting hug in a mug. At 60 calories per K-Cup your waistline won't mind this decadent treat either.
How To Make the Best Hot Cocoa K-Cup In Your Keurig
Hopefully by now you have decided which hot chocolate K-Cup you want to indulge in. Brewing and enjoying that first warm cup of chocolatey goodness is something to look forward to. Before you sip your first cup, Cozy provides a few guidelines that will help you make the most of your Keurig Hot Cocoa brewing experience.
What Can I Put in the Water Reservoir
Never Use Anything but Water in the Keurig Reservoir. Unlike traditional milk based hot chocolate, Keurig uses hot water to brew the hot chocolate K-Cups. The majority of hot cocoa K-Cups are made of real milk and chocolate. This results in a creamy, rich chocolatey taste without having to make the cocoa with milk. As a rule of thumb, you should never add any liquid other than water to your Keurig reservoir.
Keurig machines heat and dispense hot drinks quickly by pulling from its inner reservoir. If you attempt to fill the reservoir with another liquid other than water to brew your drinks, such as milk, this will result in burned milk on the heating element of the Keurig along with spoiled milk in the internal reservoir. This would cause you to have a big, curdled mess on your hands.
Hot Cocoa Brewing Option
You don't have to have a hot cocoa setting to brew hot cocoa K-Cups. However, if you would like to enhance your Hot Chocolate K-Cup brewing experience consider a Keurig 2.0 Series which has a hot cocoa brewing option. The Hot Cocoa brewing option cues the brewer to utilize a wider spray pattern to force all of the hot chocolate powder out of the K-Cup resulting in a richer, full bodied brew.
Cleaning After Use
Clean your Keurig After Brewing The sugar in Hot Chocolate K Cups can result in a sticky residue. Keep your Keurig clean by running a cycle of warm water to clear out any remaining residue once you are finished brewing your hot chocolate for the day. This will help to keep your Keurig in tip top brewing shape so you don't have to troubleshoot it often!
Top it Off
Once you have brewed a delicious cup of hot cocoa, make it fun and festive by topping it with something sweet or decorative. Whipped cream, marshmallows, sprinkles and chocolate pieces are all delicious options.
With Keurig's quick brewing time you can spend your time adorning your drink versus making it.
Now you have the information you need to begin indulging in mugs of rich, velvety, goodness at the press of a button. Cozy sends you a warm chocolatey cheers, enjoy!
Hot Chocolate K-Cup Buyers Guide
Fortunately, brewing hot chocolate in your Keurig is as easy as brewing coffee. You select your K-Cup, place it in the machine and at the push of a button you have yourself a warm cup of goodness in a minute or less.
To ensure you have the most delicious cup possible, there are a few factors you will want to consider when deciding which Hot Chocolate K-Cup to purchase.
Brand Loyalty
Is there a specific Hot Chocolate brand you love? If so it may be worthwhile to see if it is offered in a K-Cup. Odds are you will enjoy the taste of the K-Cup if it is similar to a beloved brand.
If your favorite Hot Cocoa does not come in a K-Cup, there is an alternative to consider. The My K-Cup Universal Reusable Coffee Filter is the only Keurig approved reusable filter. You can use this filter to brew any coffee, tea or hot chocolate you choose.
If you have a favorite hot chocolate that is not offered in a K-Cup version, you can opt to buy your hot chocolate in powder form and use the My K-Cup Universal Reusable Coffee Filter to brew it in your Keurig.
Your favorite hot chocolate with the convenience of a Keurig, there is not a better combination than that!
Change it Up
One of the advantages of K-Cups is that you have the ability to try different flavors and brands. This is also the case with hot chocolate K-Cups.
If you are feeling adventurous, or just want to switch your drinks up you should try a Hot Chocolate K-Cup variety pack such as the Two Rivers Hot Chocolate K-Cup Sampler Pack. This gives you the chance to sample multiple flavors to find the one you love the most.
Once you find your favorite, you can then buy those specific K-Cups in bulk. This is a good way to not spend a lot of money on a pack of K-Cups you may or may not love.
Sugar Content
There are a wide variety of hot chocolate K-cups on the market today. If sugar intake is a consideration there are several sugar free options available that still brew a decadent and delicious cup. We recommend you check them out!
How Hot Chocolate Came To Be
Hot chocolate has been a popular drink for decades. Beginning as early as 500 BC evidence shows that Mayan's consumed a chocolate like drink. The Mayan version of hot chocolate was very different from how we have come to know hot chocolate in modern times.
Mayan's created cocoa seed paste and then mixed it with water, chili peppers and cornmeal to name a few ingredients. If that still sounds good to you, it is also important to note that the beverage was served cold.
By the 17th century sweeter hot chocolate was invented and had a very expensive price making it a luxury for European nobility. In 1828, the first cocoa powder press machine was developed in the Netherlands. This machine had the ability to separate cacao seeds from the greasy texture of cocoa butter, which resulted in a purer chocolate powder that was easy to stir into both water and milk. The cocoa powder press machine paved the way for another invention, the first solid chocolate!
Hot Cocoa vs Hot Chocolate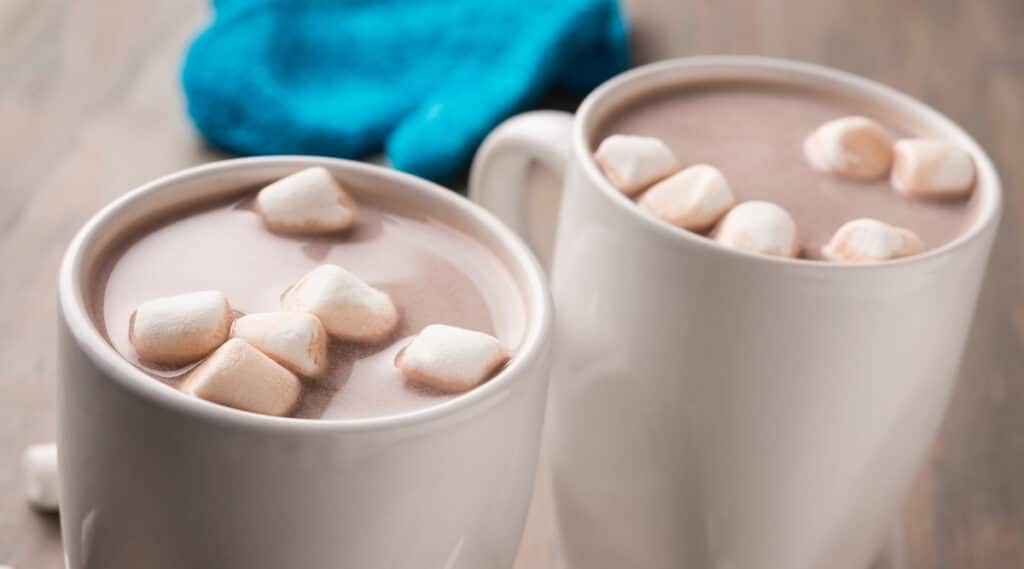 What is the Difference?
There is a difference between hot cocoa and hot chocolate. Hot Chocolate is often made with grated or chopped dark, semisweet or bittersweet chocolate and then is stirred into milk. Cocoa is typically a drink made with cocoa powder and hot milk.
Instant hot chocolate is often made of cocoa powder and powdered milk. Most Keurig K-Cups are made from instant hot chocolate, providing a convenient and delicious way to enjoy a hot cup!
In Canada and the United States hot chocolate is most popular in the instant form. It is often topped with whipped cream, marshmallows or even pieces of chocolate.
Hot chocolate mixed with espresso or coffee is a very popular drink and is often referred to as a Cafe mocha. If you would like to brew your own Cafe Mocha at home we recommend the Nespresso Creatista.
Frequently Asked Questions
Q: Are there hot chocolate K-Cups?
A: Yes, there are a wide variety of Hot Chocolate K Cups available on the market today.
Q: Can I use milk in my Keurig to brew hot chocolate?
A: No, you can't. It is important to never use anything but water in the Keurig Reservoir. Unlike traditional milk based hot chocolate, Keurig uses hot water to brew the hot chocolate K-Cups.
Q: Can I brew hot chocolate in my Keurig if it does not have a hot chocolate button?
A: Yes, you can! You will brew hot chocolate in your Keurig machine following the same steps you would when brewing coffee. First pick your K-Cup, place it in the machine, lower the bail and brew.
Q: Do Keurig machines have a hot cocoa brew button?
A: Yes, some Keurig models have a hot cocoa brew button. This includes models in the Keurig Plus Series and 2.0 Brewers.
Q: How do I use the hot cocoa brew button?
A: To brew hot cocoa with a Keurig Plus Series or Keurig 2.0 brewer you simply need to insert the K-Cup and lower the bail. You will see the screen display a button for "Hot Cocoa/Other". Select this button and then press the blinking "brew" button.
Q: Do I need to clean my Keurig after brewing hot chocolate?
A: Cleaning your Keurig by running a cleansing brew or water only brew after making hot chocolate is recommended. This will help dispel any build up in or on your machine from the hot chocolate.
Q: How hot is the water in a Keurig?
A: Keurig machines brew coffee, hot chocolate and tea at the optimal temperature of 192 degrees fahrenheit.
Q: Can I brew hot chocolate in my Keurig without buying Keurig hot chocolate K-Cups?
A: Yes you can. You can opt to place the hot chocolate powder in your mug and use the hot water only function on the Keurig Machine. It is important to note that a K-Cup is the recommended option as it will provide the correct ratio of hot chocolate powder to water.
Q: Do hot chocolate K Cups come with caffeine?
A: Most traditional hot chocolate K-Cups are caffeine free. However, there are hot chocolate K-Cups available on the market with caffeine added to the mix.
Conclusion
Whether you choose to drink it in the morning before work or around a fire with the family at night, hot chocolate is warm, comforting, rich and delicious. Both adults and children can enjoy this fun, festive drink. It can be made using water or milk and can be topped with all kinds of fun options.
Hot chocolate also is versatile in that there are many flavors and brewing processes to choose from. One of the most convenient ways to make hot chocolate is using your Keurig machine. With a Keurig brewing hot chocolate is as simple as selecting a K-Cup, placing it in the machine, lowering the bail and selecting brew. In 60 seconds or less you will have warm chocolatey goodness ready to enjoy.
Cozy hopes you can find a moment to enjoy this special treat! We are sending you a huge, chocolatey cheers!