Have you ever hit a midday energy slump and wished a tiny espresso fairy would leave a steaming cup of caffeine on your desk? Enter said tiny espresso fairy, the single serve Nespresso CItiZ. If you are in the market for a machine that can deliver a quick shot of espresso in under 60 seconds at the press of a button, our Nespresso CitiZ review will tell you why this is the brewer for you.
The Nespresso CItiZ is a compact, no frills Nespresso brewing model that packs a big espresso punch. It's a great value for the money, when compared to other Nespresso machines, and carries the same quality as some that are higher end.
What makes the Nespresso CitiZ a great fit for your espresso needs? Read on to learn more!
| | |
| --- | --- |
| Features | Nespresso CitiZ |
| Brewing Method | 19 Bar Pump Pressure |
| One Touch Buttons | Espresso and Lungo |
| Programmable | Up to 30 Minutes |
| Drip Tray | Foldable Drip Tray (For Larger Mugs) |
| Power Off | Automatic |
| Water Tank Capacity | 34 Ounces |
| Empty Capsule Storage | Up to ten capsules |
| Milk Frother | Optional |
| Dimensions | 5.1 x 10.9 x 14.6 in |
The CitiZ is a mid-range Nespresso model that brews exclusively espresso. It is designed to be as simplistic as possible and compact enough to fit in any space.
If you are in the market for a single serve espresso maker with a lot of options and functionally, the CitiZ will not be the right machine for you. Instead Cozy recommends you look into the very popular Creatista Plus or Creatista Uno which offers a much more comprehensive set of features and functions.
If you are still interested in a small, simplistic single serve espresso brewer such as the Nespresso CitiZ read on to learn all about how this small machine can make a big impression!
The CitiZ brews espresso at the touch of a button using Nespresso capsules to create drinks that feature Nespresso's signature crema on top. When purchasing the Nespresso CitiZ you will also receive a 14 pack of Nespresso Gran Crus capsules, an integrated milk frother (if you choose to purchase) as well as instructions.
Like any kitchen appliance the Nespresso CitiZ has pros and cons to consider. Below we tell you all about what we like and what you should be aware of when looking to purchase a CitiZ:
Pros
Great value for the price
Sleek and compact design that fits in any space
Brews quickly
Creates delicious espresso with fluffy crema on top
Simple to use and to clean
Programmable auto-off
Compatible with Nespresso's Aeroccino Milk Frother
Has storage for used capsules
Cons
The CitiZ is noisy despite being small
The milk frother can be hard to use
Simplistic design, not a good fit for those who are wanting more features
Size
As they say, good things come in small packages! The Nespresso CitiZ is designed to be sleek, slim and small. With its compact design, the CitiZ can find a home comfortably in pretty much any space. This makes CitiZ a versatile choice to fit many needs.
This includes those who want an espresso maker for their office space as well as those who want an espresso machine to complement their home Keurig coffee brewer without being forced to have two bulky brewing machines on the counter.
With dimensions of 5.1" width, 10.9" height and depth 14.6" the CitiZ will be able to satisfy your espresso craving in a big way while taking up a small amount of space. Check out our review to better understand the differences between Nespresso and Keurig!
Nespresso Citiz Ease of Use
Simplicity is one of the Citiz's best features. With only two buttons to choose from, there is not an overcomplicated menu of options for you to deal with when brewing your espresso.
The two buttons on the CItiZ represent the two types of drinks you can opt to brew, either a 1.35 ounce single shot of espresso or a 5 ounce Lungo (double shot).
Adding to the user friendly design the CitiZ does not even have an independent power button! Instead, you select your capsule and place it in your machine. Then push either button to tell the CitiZ what drink you would like it to brew. The fast heat-up system reaches the proper brewing temperature in just 25 seconds and in under 60 seconds you will have a fully brewed espresso topped with a rich crema. It is really that easy!
Nepresso CitiZ Buyers Guide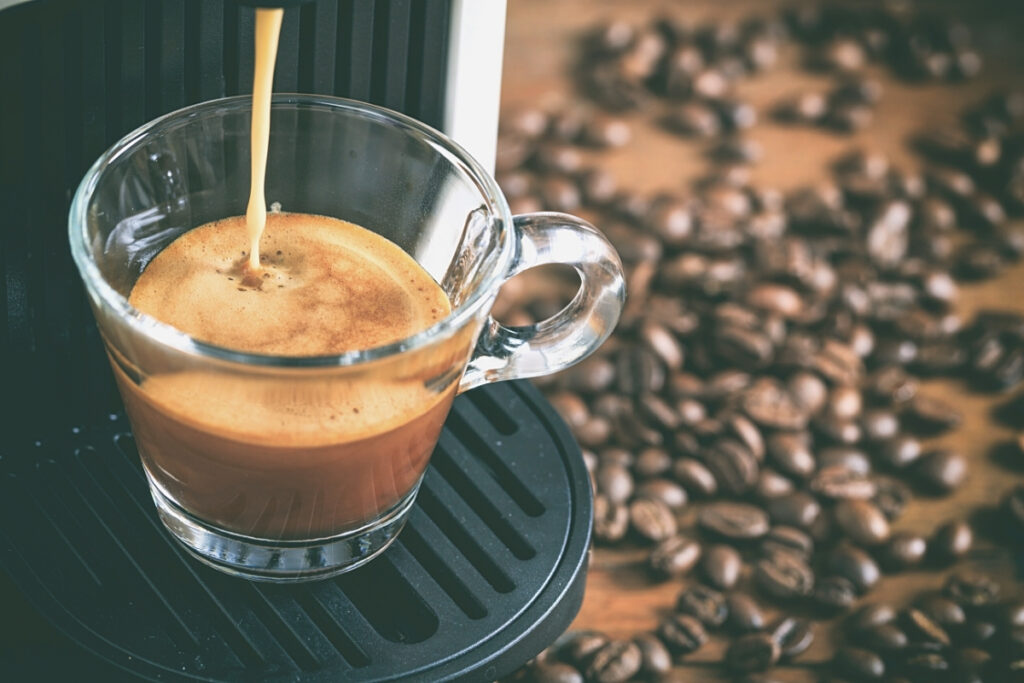 Programmable Settings
In order to conserve energy the Nespresso CitiZ is set up to automatically shut off after nine minutes of no use. This is a great, environmentally friendly feature that requires no afterthought and results in a 40% decrease in energy usage when compared to a larger espresso maker. Additionally, if you would like your CitiZ to stay on a bit longer, perhaps for that 2nd serving of espresso, you are able to program the CitiZ to shut off up to thirty minutes after you last use it.
Cup Sizes
The CitiZ is designed with a folding cup tray so you can choose whether you want to brew your espresso in a large or small mug. This feature is desirable because it allows you to dictate what you want to brew your drink in. To use, you simply adjust the tray up if you want to brew in a larger mug or move it down if you want to use a smaller espresso cup.
Lifespan
When well taken care of, Nespresso's can have a life span anywhere from 6 to 10 years. The CitiZ is durable enough to withstand daily use and sturdy enough to brew you cup after cup. Additionally, if you do run into issues with any of the parts on the CitiZ it comes with a 2 year warranty from Nespresso.
Design
Being most store their espresso makers where others can see, it is nice to know your Nespresso can make delicious espresso and look good while doing it. The CitiZ has a retro, modern design that is elegant and simple.
It is available in a variety of colors white, black or red and finishes with options of chrome, white, black or red to choose from. For the price point, the Nespresso CitiZ appears fairly sophisticated and is sure to be eye candy for your counter!
Water Reservoir
Go big or go home. That is Cozy's motto when it comes to water reservoir capacity. Luckily, this is one area where the Nespresso CitZ does not disappoint. One of the key differentiators of the Nespresso CitiZ when compared to similar models is the 34 ounce removable water reservoir. This is substantially larger than other models on the market, which typically average a water reservoir of 20 ounces or less. Additionally, the CitiZ's water reservoir is fully removable, which makes it very accessible and easy to refill.
A larger water reservoir is a very convenient feature in that the number of times you will have to refill between brews will be less the larger the machine's water reservoir is. When comparing options between machines, this is one feature Cozy recommends you should seriously consider.
Capsules
With high quality blends and indulgent flavors Nespresso prides itself in the quality of coffee offered in their capsules. Hailing from the Nespresso Original Line, the CitiZ has different blends that have their own unique intensity, taste and caffeine content. This offers a unique one-of-a-kind espresso drinking experience of smooth taste, full body and Nespresso's signature rich crema topping in every cup. As an added bonus, you can enhance your espresso with frothed milk made from a Nespresso Aeroccino milk frother, an additional option for the CitiZ that we will discuss in more detail down below.
It is important to note that like all Nespresso machines, the CItiZ must be paired with an original capsule type in order to brew. Nespresso capsules are made exclusively for the machine it is designed for. This means the Nespresso Original capsules will not be compatible with other Nespresso machines that are not in the Nespresso Original line and vice versa.
The Nespresso Original line features six capsule collections: Intenso, Lungo, Decaffeinato, Master Origin, Espresso and Crafted for Milk. With the capsules available in both sizes the CitiZ offers the 1.35 ounce espresso or the 3.7 ounce Lungo. 
Milk Frother
For those who enjoy a cloud of frothed milk to enjoy with their drink of choice, then a Nespresso Aeroccino milk frother may be a good feature for you to consider adding to your CitiZ purchase. The CitiZ comes with the option to add an Aerrocino milk frother, and Cozy highly recommends it if you enjoy a broad range of drinks.
The Aeroccino has the ability to make cold foam as well as hot milk foam and is a good compliment to the CitiZ if you would like to have the capability to froth milk for your drinks. The Aeroccino is independent of the CitiZ, but is designed to be attached to the CitiZ through a port on the side of the machine. It also detaches for easy cleaning after use.
Cozy's Bottom Line
The Nespresso CitiZ is a no-frills model that provides you with a crema topped cup of espresso in under 60 seconds. It's sleek design allows CitiZ to find a comfortable home in even the smallest spaces.
If you want simplicity, an extremely easy user experience then the Nespresso CitiZ is a great option for you. However, if you are in the market for a Nespresso that has all the bells and whistles we suggest you opt for a different Nespresso model such as the Evoluo.