If all you need is faith, trust and a little bit of pixie dust you have come to the right place! Cozy does not have any dust for you, but we do have a magical Pixie that we would like you to meet. The Nespresso Pixie machine may be small but brews a mighty cup of espresso.
The Pixie is one of the most compact and fastest single-serve Nespresso models on the market today. It's tiny size means it is portable and can easily find a home in a smaller kitchen, office, dorm room or even an RV.
With a lot of functionality packed into a small machine, the Nespresso Pixie has a wide range of innovative and advanced features to choose from. Continue reading for a full Nespresso Pixie review.
What makes the Nespresso Pixie a great fit for your espresso needs? Read on to learn more!
| | |
| --- | --- |
| Features | Nespresso Pixie |
| Brewing Method | 19 Bar Pump Pressure |
| One Touch Buttons | Espresso and Lungo |
| Programmable | Yes |
| Drip Tray | Foldable Drip Tray (For Larger Mugs) |
| Power Off | Automatic |
| Water Tank Capacity | 24 Ounces |
| Empty Capsule Storage | Up to ten capsules |
| Milk Frother | Optional |
| Dimensions | 4.4 x 12.8 x 9.3 inches |
Part of the Nespresso Original line, the Pixie brews exclusively espresso. The Pixie has a contemporary design that is both elegant and functional and is small enough to fit in virtually any space. The newest model of the Pixie is very quiet when brewing and can make espresso and lungo size drinks at a press of a button.
Designed for simplicity, the Nespresso Pixie is not a machine with every bell and whistle. If you are in the market for a single serve espresso maker with a lot of options and functionally, the Pixie will not be the right machine for you. Instead Cozy recommends you look into the very popular Nespresso CitiZ which offers a much more comprehensive set of features and functions.
Buyers Guide
The Nespresso Pixie brews espresso at the touch of a button using Nespresso Original Line capsules to create drinks that feature Nespresso's signature crema on top. When purchasing the Nespresso Pixie you will receive a welcome pack of Nespresso Gran Crus capsules, an integrated milk frother (if you choose to purchase) as well as instructions.
Like any kitchen appliance the Nespresso Pixie has pros and cons to consider. Below Cozy shares what we like and what you should be aware of when considering adding a Nespresso Pixie to your espresso brewing routine.
Pros
Extremely Fast Brewing
Programmable
Compact size, fits and goes anywhere
Creates delicious espresso with fluffy crema on top
Simple to use and to clean
Programmable auto-off
Compatible with Nespresso's Aeroccino Milk Frother
Has storage for used capsules
Cons
Simplistic design, not a good fit for those who are wanting more features
Only brews espresso, not coffee
Milk Frother is sold separately or in a bundle with additional cost
Nepresso Pixie Features
Despite its small size, the Nespresso Pixie does pack in a large amount of features that are worth making you aware of:
Compact Size
WIth the Nespresso Pixie magical things come in small packages! The Nespresso Pixie is designed to be sleek and slim. With its compact design, the Nespresso Pixie can find a home comfortably in pretty much any space such as an office, dorm or kitchen.
At only 8 pounds, the Nespresso is very portable and a great option if you would like an espresso machine that can go with you on extended vacations or RV trips. This versatility also includes those who want an espresso machine to complement their home coffee brewer without being forced to have two bulky brewing machines on the counter. With dimensions of 4.4" width, 12.8" height and depth 9.3" inches will be able to satisfy your espresso craving in a big way while taking up a small amount of space.
Efficiency
In order to conserve energy the Nespresso Pixie is designed to automatically shut off after nine minutes of no use. This is a great, environmentally friendly feature that requires no afterthought and results in a 40% decrease in energy usage when compared to a larger espresso maker. Due to its diminutive size, the Pixie requires far less energy to brew espresso when compared to automatic espresso machines.
Water Reservoir
Given its size, the Pixie has a decent sized 24 ounce water reservoir. This equates to approximately 20 espresso shots or nine lungo shots before having to refill the water in the reservoir. This is a very convenient feature in that the number of times you will have to refill between brews will be less the larger the machine's water reservoir is.
Additionally, the Pixie's water reservoir is fully removable, which makes it very accessible and easy to refill. There are red backlights placed along the sides of the Pixie that light up to alert you when you need to refill the water tank.
Cup Sizes
Similar to other popular brands such as Keurig, the Pixie is designed with a folding cup tray so you can choose whether you want to brew your espresso in a small or large mug. This feature is desirable because it allows you to dictate what you want to brew your drink in. To use, you simply adjust the tray up if you want to brew in a larger mug or move it down if you want to use a smaller espresso cup. Additionally, the drip tray slides in and out so you can easily empty spills as well as clean it.
Capsules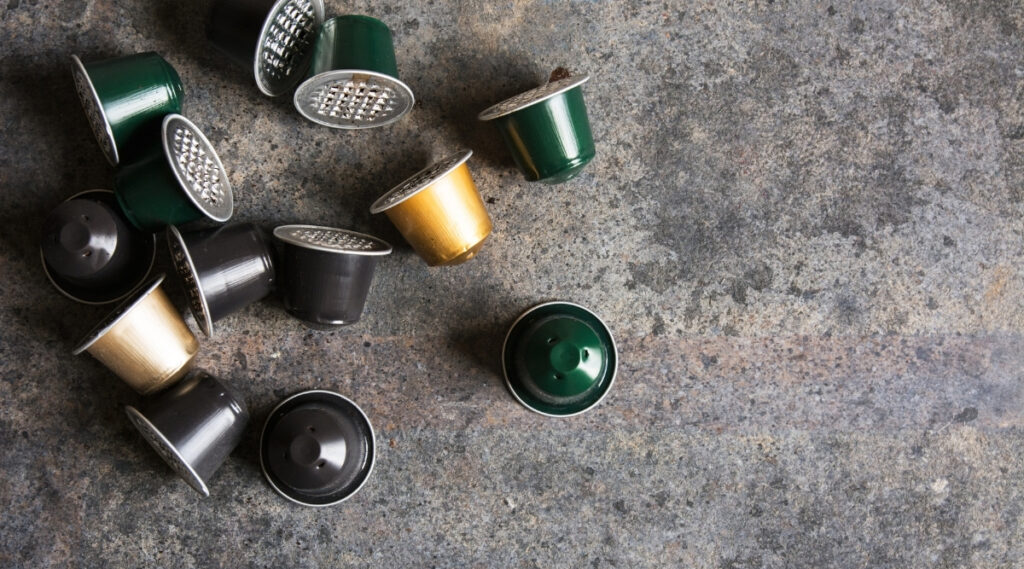 The quality of coffee offered in Nespresso's capsules is what makes Nespresso a popular option for espresso. Originating from the Nespresso Original Line, the Pixie offers different blends that have their own unique taste and intensity. This offers a one-of-a-kind espresso drinking experience that includes Nespresso's signature rich crema on top.
The Nespresso Pixie also has a convenient used capsule container that can hold up to ten empty capsules at a time. When you are done brewing your espresso, the capsule will automatically drop into the used capsule container when you pull the handle to open the brew chamber. This eliminates the need for you to go back and forth between the espresso brewer and the garbage every time you brew.
As an added bonus, you can enhance your espresso with frothed milk made from a Nespresso Aeroccino milk frother, an additional option for the Pixie that Cozy will discuss in more detail down below.
It is important to note that like all Nespresso machines, the Pixie must be paired with an original capsule type in order to brew. Nespresso capsules are made exclusively for the machine it is designed for. This means the Nespresso Original capsules will not be compatible with other Nespresso machines that are not in the Nespresso Original line and vice versa.
The Nespresso Original line features six capsule collections: Intenso, Lungo, Decaffeinato, Master Origin, Espresso and Crafted for Milk. With the capsules available in both sizes the Pixie offers the 1.35 ounce espresso or the 3.7 ounce Lungo.
Milk Frother
If your drink does not feel complete without a cloud of frothed milk to go with it, then a Nespresso Aeroccino milk frother is a good feature for you to consider adding to your Pixie purchase. The Pixie comes with the option to add an Aerrocino milk frother, and Cozy highly recommends it if you enjoy a broad range of drinks.
The Aeroccino has the ability to make cold foam as well as hot milk foam and is a good compliment to the Pixie if you would like to have the capability to froth milk for your drinks.
Ease of Use
The Pixie is the very definition of uncomplicated, with only having three buttons on the machine – the power button, a small brew size for espresso and a large brew size for lungos.
Additionally, brewing temperature is pre-programmed on the machine to ensure you get the best tasting cup without the guesswork.
The Nespresso Pixie has the capability to brew shots from 1.35 to 3.79 ounces and has two programmable brew buttons that easily allow you to customize your drink to your preferred size.
The programmable buttons are very easy to use. You simply insert your chosen capsule, press and hold the desired size brew button and release the button. The Nespresso Pixie will recall that brew size for every future brew until you opt to reset it.
Design
Being most store their espresso makers where others can see, it is nice to know your Nespresso can make delicious espresso and look good while doing it. The Pixie has a contemporary design that is elegant and simple. The Pixie comes in two color options white and gray.
Lifespan
When well taken care of, Nespresso's can have a life span anywhere from 6 to 10 years. The Pixie is durable enough to withstand daily use and sturdy enough to brew you cup after cup. Cozy recommends you follow the manufacturers guidelines, which includes removing the calcium deposits, also known as descaling, your machine every 6 months.
Nespresso versus Keurig
You will find that the most popular single-serve machines are typically made by either Nespresso or Keurig. Nespresso is one of the most popular brands when it comes to espresso brewers.
Cozy's Bottom Line
Nespresso vs Keurig…. Both rule the single serve coffee market, but when reviewing specific models its important to understand the key differences. The Nespresso Pixie is one of the fastest and smallest espresso brewers on the market. Providing you with a crema topped cup of espresso in under 60 seconds. It's compact and light design allows the Pixie to be extremely portable and can find a comfortable home in even the smallest spaces.
If you want simplicity, an extremely easy user experience then the Nespresso Pixie is a great option for you. However, if you are in the market for a Nespresso that has all the bells and whistles we suggest you opt for a different model such as the Nespresso Creatista.