If the words sweet, smoky and buttery make your mouth water, then you are visiting the right place! The Caramel Macchiato recipe incorporates all these flavors into one delicious cup.
The Caramel Macchiato is a popular choice at many coffee shops, but can also set you back a pretty penny. Today we will give you all the tools you need to make this incredibly tasty drink at home. Your taste buds and your wallet will thank you!
Get to Know the Caramel Macchiato
The Caramel Macchiato is an espresso-based drink that is made with steamed milk, vanilla syrup, espresso and caramel sauce. In Italian, Macchiato means "marked", which refers to the dark mark that is created by pouring espresso on top of the milk foam.
The hallmark of the Caramel Macchiato is the sweet caramel sauce drizzled on top. Outside of good espresso, the caramel is the most important element of this drink taking the drink from good to out-of-this-world great!
Caramel Macchiato Ingredients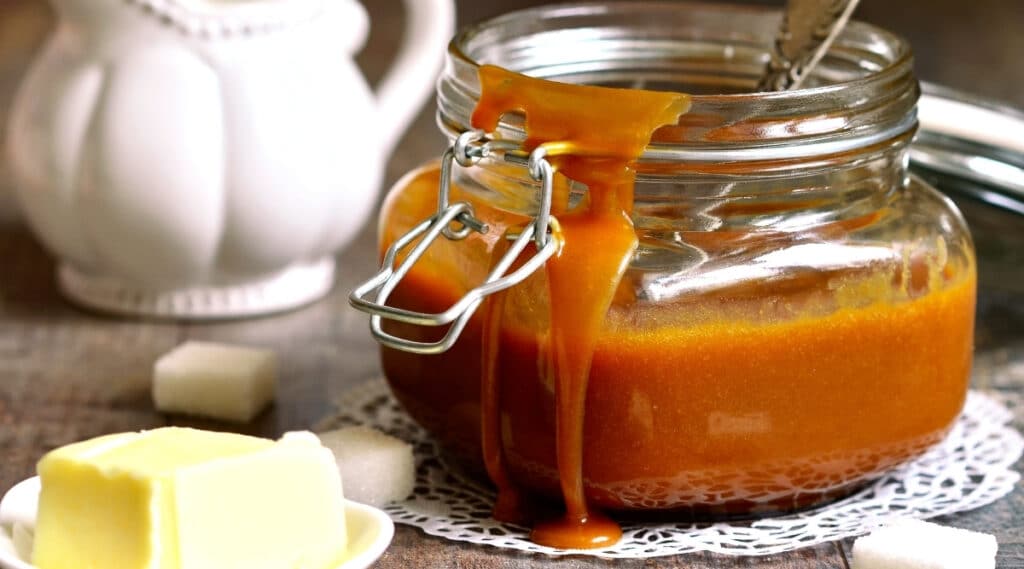 Espresso
You will want to use espresso or strong coffee. You may also substitute decaffeinated coffee if preferred.
If you don't have a home espresso brewer, no worries! There are a lot of ways to make espresso at home without an espresso machine.
Heavy Cream
Heavy cream makes this drink incredibly decadent. If you require a dairy free option, you can also use a non-dairy whipping cream.
Brown Sugar and Salt
The brown sugar will give this drink a warm, rich flavor which provides the perfect balance for the salt that will also be added to the drink.
Caramel Sauce
In a pinch you can absolutely opt to use a store bought caramel sauce for your drink. However, if you have time we recommend making your caramel sauce homemade.
This recipe is buttery and sweet, and is absolutely worth the extra steps. If that isn't a selling point, then the fact that this sauce can be made in a few easy steps should be!
For the homemade caramel sauce you will need:
Unsalted Butter
Heavy Cream or a Non-Dairy Substitute
Brown Sugar
Salt
Vanilla
Caramel Macchiato Recipe
Making the Caramel Sauce
1 ounce unsalted butter
1/4 cup heavy cream
1/2 teaspoon vanilla
1/4 cup packed brown sugar
1/4 teaspoon salt
Step By Step Process
1. Melt the butter in a small saucepan over medium heat.
2. Add the heavy cream, salt and brown sugar while stirring.
3. Thicken by bringing to a low simmer for 4 minutes, stirring occasionally.
4. Remove from the heat and stir in the vanilla.
Note: The caramel can be stored in an airtight container for up to two weeks in the fridge and used again!
Making the Coffee
1 cup of espresso or strong black coffee
1.5 teaspoons sugar
1 tablespoon heavy cream
Whipped Cream (if you prefer)
Step By Step Process
1. Stir 1 tablespoon of the caramel, sugar, and cream into the coffee.
2. Top with whipped cream and another drizzle of caramel.
All About the Espresso
Espresso is popular for its rich, intense flavor. A good espresso is typically higher in caffeine than traditionally brewed coffee making it a favorite for those looking for an energy boost. 
Espresso Beans
The largest factor in creating a great tasting Macchiato is brewing with high quality espresso beans. When it comes to brewing espresso, the bean is the most critical part!
To experience the freshest cup possible, it is best to grind your espresso beans right before brewing. Espresso beans are typically medium to dark roast beans with a full body and lower acidity.
There is a wide variety of espresso beans available for purchase. Here are our top picks for best espresso beans:
1. Lavazza Super Crema
2. Kicking Horse Coffee, Whole Bean Cliff Hanger Espresso
3. Café de Loja Medium/Dark Roast Single Origin
Brewing Espresso
Brewing technology is very advanced, with a wide variety of brewers on the market today that can make coffee shop quality drinks at the press of a button. Here are our favorites:
Nespresso Machines
Nespresso is the leader in one touch espresso machines with all Nespresso models brewing espresso drinks at the simple touch of a button.
The Nespresso Lattissima Plus is an innovative, compact machine that allows you to brew high quality drinks using Nespresso capsules at the push of a button.
The biggest selling point for the Lattissima Plus is that creating any milk based drink is almost completely automated. This results in minimal clean up, no measuring and no need for a large amount of tools to brew your favorite drinks.
The Lattissima provides you with a barista quality drink without having to expend a barista sized effort. This is a winning combination in our book!
Automatic Espresso Machines
Automatic Espresso Machines are an investment, it is one that will pay you back in dividends when you pick the right one for your espresso drinking needs. 
At a Glance: Our Top 4 Picks for Automatic Espresso Machines
1. Philips 3200 Fully Automatic Espresso Machine (Best Overall)
2. De'Longhi Magnifica Super-Automatic Espresso (Great Value)
3. Breville Fully Automatic Espresso Machine (Best Commercial Model)
4. Breville Inissia Espresso Machine (Best on a Budget)
Budget Friendly Espresso Machines
Are you looking for a new espresso machine that won't break the bank? A Budget friendly espresso machine will not have all the bells and whistles of an expensive Automatic Espresso machine, but it will still have the ability to brew you a good cup of espresso.
Budget friendly espresso machines are a great option if you are not ready to invest in a more expensive machine.
At a Glance: Our Top 3 Budget Friendly Espresso Machines
1. Nespresso Essenza Mini (Top Pick)
2. Yabano Espresso Machine (Budget Pick)
3. Nespresso Inissia (High End Pick)
Cozy's Bottom Line
Caramel Macchiato is a warm, rich, buttery drink that is a perfectly sweet pick me up day or night. Sustaining a caramel macchiato habit can be very expensive when choosing to purchase at a coffee shop every day.
Fortunately, the Caramel Macchiato is an easy drink to make at home by having a few simple ingredients on hand. Having an espresso machine is also an item to consider investing in if you regularly enjoy espresso based drinks. 
Wishing you a warm, caramel filled cheers!